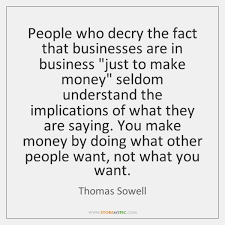 PROFITS – "JUST to MAKE MONEY" – CAN BE PROBLEMATIC ("greed"), BUT MONEY SERVES as a "MEASURE" THAT ACCURATELY (even brutally) and EFFECTIVELY EXPRESSES the "WILL of the PEOPLE" and REWARDS "ALTRUISM".
PEOPLE "VOTE WITH THEIR WALLET", for good and bad.
FREE MARKET COMPETITION PROVIDES PEOPLE with the POWER to "PURSUE HAPPINESS" in a WORLD of "TRAGIC REALITIES", ACCORDING to THEIR OWN CHOICE and BEST INTERESTS.
"PROFITS" and "CAPITALISM" is NOT "PERFECT", BUT WORK BETTER THAN ANY ALTERNATIVES for the GREAT MASSES.